CONNECTING THROUGH THEATRE
JOIN US FOR FREE ACTIVITIES, WORKSHOPS, AND THEATRE OUTINGS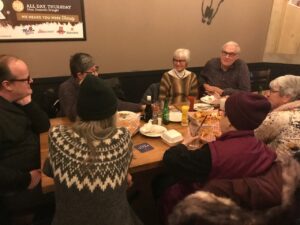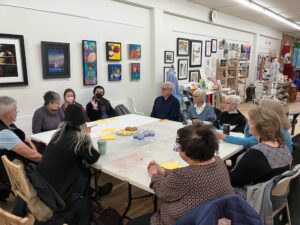 Connecting Through Theatre 
 Attend a play, try an acting class, sit with the actors and be part of a staged reading, learn a new skill. It's all possible with Connecting Through Theatre. This popular free program of theatre and theatre-related activities, funded by the Government of Ontario, returns this fall. 
There is no cost or long-term commitment to participate. Adults of all ages are welcome and no previous experience or knowledge of theatre is required.
Connecting Through Theatre is the perfect way to meet new friends and feed a love of all things theatre!
Please read the program descriptions below. Then  fill out the form at the bottom of the page to be added to our program newsletter list.
(Please note, there are also session sign-up lists for the First Read Club and Scene Study.)
First Read Club
Read plays, dig into text and gain insight into live theatre creative and production processes.
Our First Read Club invites you to the production table with Theatre on the Ridge artistic staff and artists. Each session will feature a new play to be read aloud followed by creative discussion and conversation.
The First Read Club will be held at the Scugog Memorial Public Library on the first Tuesday of every month. You can choose to attend the afternoon or the evening class.
Session #1 – Tuesday October 3rd at the library. 1 pm to 3 pm, or 6:30 to 8:30 pm.
If you would like to join us for our First Read session on October 3rd, please sign up here.
 

Audience 101 (Live Theatre)
Audience 101 provides access to free performances of some of the best community theatre in Durham this coming season, complete with exclusive pre and post show conversations with professional theatre artists and writers.
*The following is a tentative list of our Audience 101 outings:
Thursday November 16th, Evening – Mustard by Kat Sandler, Durham Shoestring Performers.
Saturday November 25th, Matinee – Colours in the Storm by Jim Betts, Onstage Uxbridge.
Sunday, February 4th, Matinee – Amadeus by Peter Shaffer, Oshawa Little Theatre.
Saturday February 17th, Matinee – Jenny's House of Joy by Norm Foster, Borelians Community Theatre.
Sunday April 7th, Matinee – Into the Woods by Stephen Sondheim and James Laine, Oshawa Little Theatre.
Saturday April 27th, Matinee – Drinking Habits by Tom Smith, Whitby Courthouse Theatre.
(Shows and dates to be confirmed. Registration details will be announced soon. Spaces are limited.)
The Things I've Scene: Connecting Through Scene Study
Do you marvel at the ability of your favourite actors to create interesting and complex characters, sometimes even from the most unassuming script? Are you curious about the process of how they go from words on a page to characters that seem so genuine and original?
We explore short scenes, and discuss and try out some of the techniques actors employ to present what you ultimately see on stage, in films, and on TV. The classes are free, informal, and don't require any previous acting experience. You can just come to one, or as many as you please. Come out and meet some new people, learn something new, and have a laugh or two!
Scene Study will be held weekly on Tuesday mornings at the Port Perry United Church.
Session #1 – Tuesday Oct. 17th, 10:30 – Noon.
Please sign up for Scene Study Fall sessions here.
Moving Well: Connecting through stretch & conditioning
This non-aerobic class works with gravity, body weight, breath and relaxation to improve overall strength, flexibility, muscle tone, posture and alignment and is particularly helpful with pre-season conditioning (sports and garden), The class structure is built on proven stretch and strength sequences. Moving Well counters the negative impact of extensive sitting, now recognized as a major contributor to poor physical well being.
The Moving Well sequences have their roots in Nicklaus, Feldenkreis, and yoga techniques and are supplemented with additional sequences drawn from the work of neuromuscular therapist Irene Dowd. They are moderate to mildly extreme in physical demand on the body.
Pre-requisite: participants must be comfortable with sitting or lying on the floor for extended periods of time and we recommend that you consult with your healthcare practitioner prior to starting any new program of physical activity. Moving Well is not intended to replace qualified and/or prescribed physical therapy or other medical recommendations for specific injuries or chronic conditions.
For comfort and ease, participants should dress in comfortable loose clothing and bring a firm pillow, towel and/or yoga mat.
Details will be announced soon.
Theatre and Production Skills Workshops
Details to come.
Please fill in the form below if you are interested in any of these activities. You can email us at  lifeastheatre@gmail.com  with any questions or concerns. Thank you!
Connecting Seniors Through Theatre