THEATRE ON THE RIDGE
PRESENTS:
Innocence Lost:
A Play About Steven Truscott
by Beverley Cooper
July 12th-29th, 2023
Scugog Shores Museum
About Theatre on the Ridge
Theatre on the Ridge is a not for profit registered charity and believes in the power of theatre as a universal language and medium of entertainment, self-expression and communication to broaden understanding and empathy between individuals and communities.
We commit to telling our individual and collective stories through high calibre productions, the creation of new plays and the development of new artists. We tell these stories in live and digital formats and are adaptive and attentive to the impact of heritage and change. We increase accessibility to theatre and, through our stories, contribute to our community's sense of well-being and connection.
Land Acknowledgement
Scugog is situated on treaty land that is steeped in rich indigenous history. We acknowledge that we are gathering on the traditional territories of the Mississaugas of Scugog Island First Nation, situated within the Williams Treaties. The Mississaugas of Scugog Island are a branch of the greater Anishinaabeg Nation, which includes the Algonquin, Ojibway, Mississauga, Chippewa, Odawa, Delaware and Potawatami peoples. We recognize and deeply appreciate the historic Indigenous connection to this land and recognize the contributions First Nations, Metis, and Inuit peoples have made, both in shaping and strengthening this community in particular, our province and country as a whole.
We also recognize that land acknowledgements are not enough. We must pursue truth, reconciliation, decolonization and allyship in an ongoing effort to make right with all our relations. In our work and actions as artists, residents and members of our community, we seek to honour the generations of Indigenous peoples, Elders and knowledge keepers who have gone before us, as well as those yet to come.
INNOCENCE LOST: A PLAY ABOUT STEVEN TRUSCOTT
CAST
Sarah
Karly Friesen
Woman From Base, Leger, Maggie
Elyssia Giancola
Lynne, Karen Daum, Lawyer, Oliver
Sarah Kaufmann
Mr. Harper, Harold Graham, Dr. Penistan, Hobbs, Stoner
Adrian Marchesano
Mother, Registrar, Brown Owl, Darlene
Reid Martin
Jocelyne Gaudet, Lynn Johnston, Trudy, Barbara
Briony Merritt
Steven, Son
Liam Ryan
Father, Dan Truscott, Hays, Teacher, Rev. Bagnall, Constable
Michael Serres
Doris Truscott
Annette Stokes-Harris
Isabel LeBourdais, Mrs. Harper, Nurse, Judge
Emily Templeman
Juror's Son, Gordon Logan, Richard Gellatly, Butch George, Dougie Oates, NCO, Ken, Jim, Bob Lawson, Older Steven
Austin White
PRODUCTION TEAM
Director
Carey Nicholson
Stage Manager
Emma Church
Production Assistant/ASM
Parker Drebit
Costumes and Props Coordinator
Sarah Jewell
Sound Design & Sound Technician
Lyle Corrigan
Technical Direction & Lighting Design
Colin Hughes
Lighting Technician
Parker Drebit
Digital Production Coordinator
Jana Tolmie
Social Media Coordinator
Melissa Rada
Venue Manager
Andy Williamson
Box Office and Audience Development
Michael Saunders
Patron Services Coordinator
Natasha Miles
This performance runs approximately 2 hours, including one 15 minute intermission.
Content Advisory: This play contains mature content, language and sensitive material that may be disturbing to some audience members.
Excerpts from the poem Requiem for a Fourteen-year-old by Pierre Berton are used with
the kind permission of the Berton Family.
Innocence Lost: A Play About Steven Truscott premiered at the Blyth Festival in 2008,
Commissioned by Artistic Director Eric Coates and directed by Miles Potter.
Innocence Lost: A Play About Steven Truscott is produced by permission of the Playwright
and Marquis Literary (Colin Rivers) www.MQlit.ca"
Message from the Artistic Director/Director
So much has changed since we first decided to put Beverley Cooper's Innocence Lost on our slate for the summer of 2020 – the dates, the venue, the intended cast, the director, the world…
Our production on stage in 2023, is not necessarily the production that audiences would have seen three years ago, but it is the same story. And within that story there is so much that hasn't changed from 2020 or even from 1959 – how communities simultaneously band together and divide as they cope with fear and the unknown, how good people protect each other and themselves, and how what happened to Steven Truscott could, and would, still happen today. Because we are human.
On one level this play is a cautionary tale of the power and fallibility of our justice system, of its innate humanness. The Steven Truscott case itself and its aftermath, all the way to Steven's ultimate acquittal, is an account of humanness and justice often at odds, and how we as a country eventually tried to restore balance.
On a deeper level, the title of this piece says it all – Innocence Lost. There comes a time in our lives when we become aware of the power and fallibility of our own humanness, when we lose our innocence. We see that our world, and its ideas and systems are no longer simply black or white or binary. And as humans, we then struggle to restore some sense of certainty, to push away the eroding power of doubt.
Innocence Lost: A Play About Steven Truscott invites us to consider that there can also be the moment when we realize that innocence lost is not hope lost, that our humanness can also save us – the awareness that we have a choice, that our responses and actions need not be absolute or finite, that by accepting our humanness, and even our mistakes, we empower ourselves and can move forward. We can choose to live in a world that allows us to navigate through the greyness of our choices, change our minds, redress any actions and consequences to the best of our ability. It's all we can do, and if we can do that, there is always hope.
Carey Nicholson
Artistic Director, General Manager, Director

CAST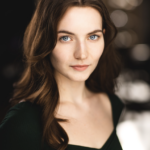 KARLY FRIESEN is a Toronto based actor and avid mover originally from Sudbury Ontario. She is a 2021 graduate of the Theatre Performance program at George Brown College, where she was lucky to have the opportunity to work with such brilliant theatre artists and creatives. This past year, Karly has had the pleasure of becoming an Arts Educator for The Harbourfront Centre School Visits Program, where she teaches dance and theatre fundamentals to students from all over the GTA.
Selected past credits include: Punch Up (Carey Nicholson) & Something From Nothing (Andy Massingham) at Theatre on the Ridge. Boom Baby (Kimberley Radmacher) & Nested (Molly Thom) at Alumnae Theatre. Three Sisters & Co. (Rob Kempson) & The Corsican Complaint (Sue Miner) at George Brown Theatre School. Instagram @karlyfriesen.
ELYSSIA GIANCOLA (she/her) is multi-hyphenate artist whose most recent projects include playing Portia in The Merchant of Venice, assistant directing Per Gint: A Sort of Adaptation of Peer Gynt, stage managing, and working in various box offices. She is a graduate of George Brown Theatre School, and also holds a Bachelor of Arts in English and Professional Writing. Elyssia has continuously trained as a dancer and is a certified instructor in both jazz and tap dance. Elyssia aspires to someday be a contestant on Jeopardy! and risk it all on a Daily Double in a Shakespeare category. Performance highlights include Satan (Paradise Lost), Widow Banks (The Witch of Edmonton), Chorus Leader (Three Sisters), Goose (Planet Munsch), and Elizabeth (Richard III).
SARAH KAUFMANN Sarah Kaufmann (she/her) is a queer theatre artist based in Toronto. Recently she was a touring actor in Italy with Educo Italia performing shows for English-language learning. Selected projects: Director (Wake Up, Brother Bear, TYT), Sue (The Boy Who Loved Monsters and the Girl Who Loved Peas, TYT), Assistant Producer (1184, Phoenix Arts/Aga Khan), Collaborator/Performer (The Thoughts Between Our Heads, Paprika Festival), Soapy Smith/Ensemble (Belle Darling Klondike Queen, Alumnae Theatre). In the future, Sarah hopes to become a therapeutic clown!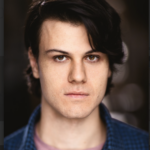 ADRIAN MARCHESANO is a Toronto-Based actor hailing from Oakville, Ontario. For as long as he can remember, the arts have always been a part of his life; from his beginnings in community theatre to professional productions, Adrian continues to pursue his passion as an actor. He has studied Dramatic Arts at Brock University, graduating with a Bachelor of Arts; and more recently, at George Brown Theatre school. Some of his favourite roles include Pantalone (Pantalone's Palace), Nicholas (One for the Road) and God (Paradise Lost). Adrian extends heartfelt gratitude to his family and friends for their unwavering support, which has fueled his extraordinary journey.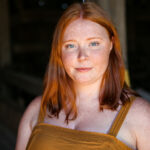 REID MARTIN is a Sheridan College and UTM Theatre and Drama Studies graduate. She holds a diploma in Professional Actor Training and an HBA Specialist Degree in Theatre and Drama Studies.
Recent productions include: Le Bret in Cyrano (TOTR), Frank in The Ends of The Earth (TOTR), Shelley in The Huns (TOTR), Desdemona in Othello (Knockout Theatre Co.), Bombur in The Hobbit (Theatre Erindale), and Adella in The Little Mermaid (Silly Stages), amongst many others.
Reid is overjoyed to be returning to Theatre on The Ridge and Port Perry for another summer!
BRIONY MERRITT is a British-Canadian actor and writer who recently moved to Toronto from the East Coast. For the last few months, she has been busy exploring new cafes and bookstores, and getting to know the wonderful theatre community in and around the city! Selected theatre credits include: The Christie Pits Riot (Hogtown Collective, ASM), Shanty Show (The Lakeside Players), The Triangle Shirtwaist Factory Fire Speed Read (Surplus Production Unit), Festival Antigonish Summer Theatre (Young Company). Film & TV: Chapelwaite (MGM), The Colour of Spring (Winter Light Productions).
LIAM RYAN is an actor who was trained
in the York University Conservatory program from 2020 to 2023. He was in two mainstage productions at York, Love in the Time of Werewolves written by David Yee and Directed by Diana Belshaw, and the Canadian premiere of Dance Nation, directed by Anita LaSelva. He's excited to work for the first time in the professional theatre world.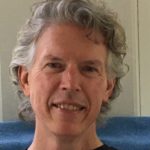 MICHAEL SERRES has been involved in the Durham Region theatre community as an actor, director, and sound designer for 30 years. Michael also has several years of experience as a theatre administrator, as well as the creator of Smart Acts, a company that provided educational and performance theatre classes designed for the more experienced segment of our population, as a means of staying mentally engaged as one ages. He is interested in exploring the overlap between psychology and acting, happiness, and aging well.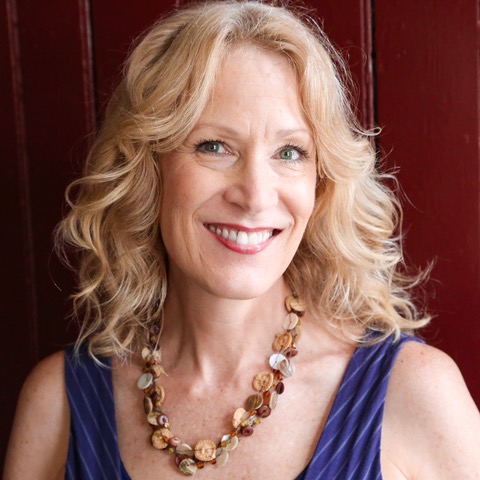 ANNETTE STOKES-HARRIS is an award winning actress and director with an honours specialist in Theatre Arts. She has acted and directed across the GTA. She was Artistic Director for Act One Theatre Company in Toronto and Chair of the Arts at All Saints High School in Whitby for 6 years. Annette and her husband Michael have worked together on many projects including the award winning productions of Hay Fever, Steel Magnolias, Crimes of the Heart, Lost in Yonkers, A Midsummer Nights Dream, A Streetcar Named Desire, Doubt – A Parable and Pride and Prejudice. Their most recent projects with Theatre on the Ridge production include The Importance of Being Earnest and The Glass Menagerie.
EMILY TEMPLEMAN is a multidisciplinary artist based in Toronto, Ontario. Emily graduated from Randolph College for the Performing Arts in December of 2020. With a focus in vocal training, Emily has recently passed Level 8 RCM examinations as well as performed at Roy Thomson Hall as part of the VOCA Chorus's Shining Night Concert. Emily loves learning, teaching, creating art, and every dog they see.
AUSTIN WHITE is a multidisciplinary performance artist and cultural worker from Edmonton, Alberta. Currently he is based in Toronto, where he is entering his fourth year at TMU's School of Performance. He enjoys creating work that challenges the audience's politics and perceptions.
Some of his recent production credits include The Dybbuk, & Enormity, Girl, and The Earthquake in her Lungs (TMU School of Performance), Insert Clown Here (Terra Firma Festival), For Better or Worse (Springworks Festival). You can catch him as part of the hip-hop music collective The Free Agents when he isn't performing on stage or clowning around the town.
PRODUCTION
DIRECTOR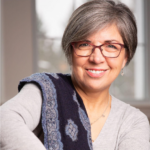 CAREY NICHOLSON is a graduate of George Brown College and the School of the Toronto Dance Theatre (STDT) professional dance programs, and a past faculty member at STDT. She has been involved with community and professional theatre companies in Durham, York region and elsewhere in many capacities, primarily as board member, producer, director, choreographer, performer, instructor, set and costume designer. Her past, and ongoing, theatre studies include programs and courses with George Brown College, Toronto Dance Theatre, Tarragon Theatre, the Stratford Festival, Off The Wall Theatre Alliance, and as an auditing director with Obsidian Theatre in 2018.
Carey is currently the artistic director and co-founder of Theatre on the Ridge (www.theatreontheridge.ca), Durham region's not for profit, professional theatre company. As resident of Scugog for over 20 years, Carey is also a founding member of the Lake Scugog Studio Tour and META4 Contemporary Craft Gallery. She is a past president of Scugog Council for the Arts and was the SCA's first executive director from 2009 to 2012.
Carey has received several awards for her work in the performing arts, including a Durham Art of Transition Creative Award in 2014 for her contribution to theatre in Durham. She is also an independent theatre adjudicator, arts educator and arts management consultant.
STAGE MANAGER
EMMA CHURCH is excited to join Theatre On The Ridge for the 2023 summer season. A recent graduate of the St. Clair College Music Theatre Performance program, she is heading west in September to start her BFA in Theatre Production at the University of Alberta. You may have seen Emma on stage in Durham Region, as she has performed at Oshawa Little Theatre, Durham Shoestring Performers, and Whitby Courthouse Theatre but she has happily transitioned to backstage. She hopes you enjoy your experience with TOTR!
Assistant Stage Manager/Production Assistant
Parker Drebit has been involved in the performing arts for over a decade now, originally studying dance for 8 years before transitioning into theatre. Now Parker is mostly backstage but he occasionally performs. 
COSTUME & PROPS COORDINATOR
SARAH JEWELL has graduated from the Theatre Arts Production program at Laurentian University, after completing two years at Cambrian College. She has worked on Thorneloe Productions in the past, including the plays Memories of Water, The Dead Mess Project, Drag Queens on Trial, Blood Relations, and Turmspitze. Sarah did an internship in PEI at the Watermark theatre. She has also worked at Canada's Wonderland on Halloween Haunt and Winterfest. Sarah has also worked at TOTR in the past on Something from Nothing and Cyrano. She is excited to be back in Port Perry for another summer.
DON'T MISS OUR UPCOMING SHOWS!
A SPECIAL PRESENTATION:
3 performances only!
The Guild Festival Theatre's
ALICE IN WONDERLAND
Adapted by David Savoy and directed by
Tyler Seguin
Friday August 4th, 7 pm
Saturday August 5th, 2 pm and 7 pm
Scugog Shores Museum Village
THE LIVING END, OR MADAME

WINIFRED'S CIRCUS OF WONDERS
Created by Andy Massingham and the Summer Company
August 15, 16 & 18,
23-26, 7 pm
August 17, 19, 22, 2 pm
TICKETS ON SALE NOW @ www.theatreontheridge.ca